Sustainability
Our Sustainable Policy
Datchet Water Sailing Club recognises that businesses can have a negative impact on the environment. We are committed, and enjoy, finding ways in which we can reduce the impact of our business on the environment. We make our business decisions using the three pillars of sustainability.
It is our policy to:
Maximize the use of renewable energy through solar panels and water sourced heat pumps.
Keep energy usage low. For example, improving insulation to all areas and making use of low energy light bulbs throughout and ensuring that computers are shut down after work.
Recycle as much waste material as possible.
Avoid the use of paper wherever possible.
Recycling / upcycling equipment that is no longer of use to the company. For example, giving away items such as old boats old sails for school DT projects.
Reuse wastepaper (from the printer) where possible, making use of the blank side for notes, etc.
Purchase products made with recycled paper. For example, paper towels, printer paper
Purchase products with a lower environmental impact. For example, environmentally safe soaps and detergents.
Encourage the use of less plastics, for example installation of water fountains to reduce plastic bottle usage
The club boasts a 35KV solar panel system and a Water Source Heat pump that provides for the club hot water and heating requirements. We are hopeful that the club can utilise battery storage for solar energy to further reduce its reliance on the grid. See below .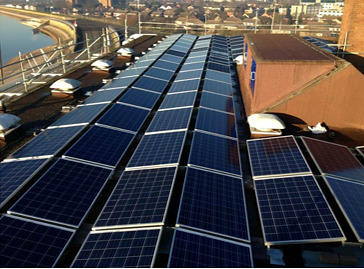 Green Club of the Year Award

Our Green Club initiative and projects have been recognised at the highest level. Datchet Water Sailing Club has won the Green Club of The Year award in 2017 and 2019 at the Club Mirror Awards. See below a video of Gabrielle receiving the award in 2019.
Last updated 12:15 on 28 May 2021