Boats for sale
Contact manager@dwsc.co.uk to add your boat to this page.
RS AERO 7
RS Aero 7, delivered June 2021 - sailed on perhaps half a dozen occasions, hence in immaculate condition. Full specification is:

Carbon pro tiller extension (1.05m)
JC strap kit
Padded spa bag
Carbon compass mounting (suits TackTick)
Mainsheet swivel base (Harken)
Flat deck cover
Wind indicator
Aluminium launching trolley
Main halyard upgrade
Padded rudder bag
Padded daggerboard bag
Rooster tapered kicker control line
Rooster polilite mainsheet
Rooster over-deck control lines

Currently, she's at Datchet and has only been sailed on the reservoir. £7,750 or near offer.

Contact Charles, c_griffin@btinternet.com or 07715 762161
Laser 209163

Laser sail number 209163 (2015). Has been sailed largely in the summer. It has a numbered radial sail and aluminium top section and full LP foil bag. Comes with a trolley but no road base.
There's slight wear and tear but it's in stored indoors over winter and sailed maybe 100 days total (in championship condition).

More images upon request.
Looking for £3.5k or reasonable offers.
Contact Natalya Williams -nataaalya@hotmail.com
K1 GBR 73 - Expressions of Interest
This K1 sailed to second place at the 2021 National Championship held at Portland. It has also won numerous prizes at club and open meetings.
Number 73 is the first hull built by Rondar and finished for sale by Vandercraft. Rondar clearly lavished extra care and attention on the first hull they produced. Open the rear hatch and be welcomed by a fresh smell of GRP. I swear not one drop of moisture has entered the hull during its entire existence.
I am the second owner of this K1 and I have transformed it into a fast, competitive dinghy. In doing so I have removed heavy grab rails so you will see four filled screw holes in each side tank. The winning settings are on the class association website and the boat comes ready to race although I shall keep my tacktick compass and bracket for my new K1.
The boat will be ready for collection during March 2022
Included is:

K1 73 ready to race.
Two sets of sails. One virtually new set, only used at the Nationals and two subsequent open meetings. All club racing with the previous set.
Keel does have a few nicks in the trailing edge but all fared in and has no adverse effect on performance.
Since the Nationals a retrofit keel lockdown system has been added made from carbon fibre and marine grade stainless fixings.
Secure rudder fittings on transom which won't require regular tightening.
Long carbon fibre tiller extension.
Rudder cover
Rig tension adjustable from either tack
Boom mainsheet cleat
Quick release outhaul cam cleat upgrade.
Jib sheet cleat moved off centre to ensure kicker clearance.
The vertical Jib pole has had a carbon fibre repair at the top. Now extra strong and pictures of repair on Association website. (On the members sign in side of the website)
Trailer - New March 2019 ( You will need your own ratchet straps and tie down arrangements)
Launching trolley
Over cover with special cover hold up bar.
Under cover
Both owners have sailed the boat on freshwater reservoirs with occasional trips to seaside regattas.
When I decide to offer the boat for sale preference will be given to members of Datchet Water Sailing Club (DWSC) who will race at DWSC, new members committed to keeping and racing the boat at DWSC and then the rest of the world.
Once my expectations have been met I will agree to the deal. No auction, blind or otherwise, No gazumping.
I have it on good authority that the last pre-owned K1 sold for £8,500 ish. It had a bit more polish but not the pedigree or the nearly new sails or the keel lock down upgrade, to the best of my knowledge.
Available for viewing at Datchet Water Sailing Club
So at the present time I am seeking expressions of interest.
Please contact:
Ian Duke
07879998161
ADH Freerace 145 Windsurf Board

AHD board 145ltrs. Comes with a bag, fin and nose protector.
Price:£550 Ono
Contact: Robert Taylor 07776 182009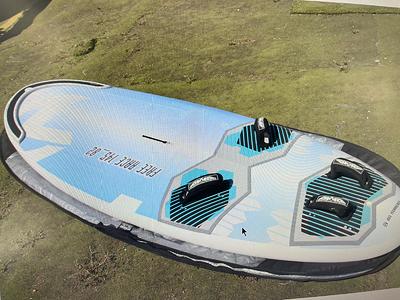 Multi stack trailer
Carries 6 boats with a load capacity of 2700kg.
Price: £1600.00
Contact: Faisel Shaban 07825021011
Nacra 570

Bought in 2005 from Dinghy Store at DWSC
In 2010 new gel-coat with some small other refurbishments.
Fairly good condition and sailed up until recently by myself and my son.
It comes with all its standard equipment: Mainsail (has small mend), main sheet with pulley, Jib, 2 rudders, extendable tiller extension etc.
Kept at DWSC with a canvas cover on to protect from the sun
It has a road trailer and a Euro-Trax launching trolley
Sail number: 969
Berth Number: N15
Price: £3000.00
Email: deborahsalmond@gmail.com
Club boats for sale

Contact manager@dwsc.co.uk for more information
Topaz £500
Last updated 13:23 on 11 August 2022